Surfing pros and enthusiasts alike will be drawn to New Zealand in the spring of 2015 for one of the most anticipated new events in the surfing community. The Ultimate Waterman competition, scheduled to take place March 14–21, 2015, will feature a variety of surfing disciplines and the world's top competitors. Supported by New Zealand's Ministry of Business, Innovation and Employment, the Ultimate Waterman competition is drawing attention from the country's booming population of 140,000+ surfers.
Events at the Ultimate Waterman Competition
Scheduled as an eight-day event, the Ultimate Waterman competition is the first of its kind in the world. Designed to showcase the talents of competitors, the Ultimate Waterman competition will feature six distinct disciplines, including the following.
Longboard surfing. A challenging surfing discipline, longboarding is one of the competition's main events.
Shortboard surfing. Ideal for wave tricks, shortboard surfing takes skill. The Ultimate Waterman competition will evaluate participants on style and technique.
Stand up paddle board endurance and surfing. These specific surfing disciplines involve paddling far out into the water to catch waves. Competitors are judged on their ability, skill, and accomplishments during this portion of the event.
Waka-ama endurance. Taking place on Takapuna Beach at the start of the competition, this event will measure endurance and strength.
Tow-in surfing. Initially invented to break the 30-foot wave barrier, tow-in surfing will be one of the most exciting events at the Ultimate Waterman competition.
The variety of events to be judged at the upcoming competition is part of what will attract international attention, both in person and online, to New Zealand's first annual Ultimate Waterman Competition.
Where Competitions Will Be Held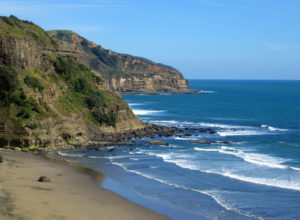 Though the competition will be based in Mission Bay, Auckland, competitors will be informed of the best surfing locations each day, based on weather, wind, and water conditions, and fly directly to those locations to compete. Mission Bay will host media activity, competitor appearances, and meet-and-greets with participants. Additionally, spectators will gather at Mission Bay for the latest updates on the competition.
What to Expect at the Ultimate Waterman Competition
As an invitation-only event, onlookers can expect to see the world's top surfing professionals vie for the title of the "Ultimate Waterman." An event that will be widely televised and available on social media, The Ultimate Waterman competition promises to reach more than 20 million people across nearly 90 countries and will become the world's premier surfing competition. Invitees for the 2015 event include the following notable surfers:
Daniel Kereopa. Proficient in all surfing disciplines, Daniel Kereopa is a New Zealand native and was among the first to receive an invitation to compete.
Kai Lenny. A native of Hawaii, Kai Lenny is no stranger to large waves. With an impressive social media following and even more impressive surfing career, Kai Lenny's presence will encourage fellow competitors to bring their "A" game.
Manoa Drollet. Hailing from Tahiti, Manoa Drollet will bring his surfing skills and prominent reputation as a top surfer to New Zealand's capital in March 2015.
Mark Visser. An Australian native, Mark Visser is considered among the top surfers on the planet. Notably, he is known for making history in 2011 when he conquered 30–40ft waves in Maui's Jaws Break.
Danny Ching. The only mainland U.S. contender to be invited thus far, Danny Ching is regarded as an expert paddler who broke the world record for the fastest 200-meter sprint, which he completed in under 48 seconds.
If you're a surfing enthusiast or aspiring competitor, keep an eye out for updates on the competition and monitor results online. And for the latest surfing gear designed for both pros and beginners, head to Culprit's online store.