Nylon Performance Surfboard Fins
Nylon Performance Fins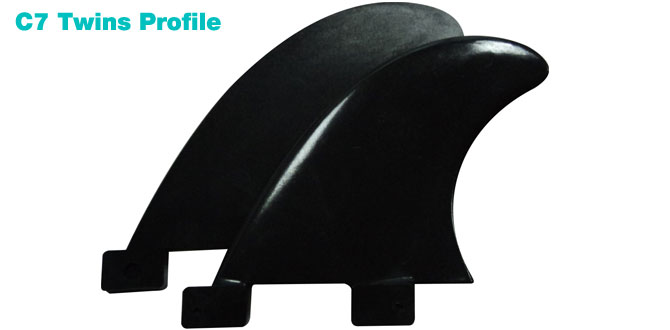 Culprit's Nylon Performance Surf Board Fins series are available in 3 styles similar to the GL's, G5's and K3's in the FCS range. Culprit nylon fins offer a durable, low cost, high performance alternative to current fins on the market. Our Nylon Performance fins are made from glass reinforced Dupont resin, which is a highly respected nylon composite known for its durability and strength. These fins will not disappoint! Check out the competitive advantages that Culprit Nylon Performance Fins have to offer.
Culprit Nylon Performance Surfboard Fins
Sizes:
C7: Height 3.55″ Base 3.35″ (90mm*85mm) Sweep 33o Similar to GL's
C8: Height 4.53″ Base 4.33″ (115mm*110mm) Sweep 33o Similar to G5's
C9: Side Fins=> Height 4.48″ Base 4.25″ (114mm*108mm)
Center Fins=> Height 4.25″ Base 4.25″ (108mm*108mm) Similar to K3's
Ideal surfer weight range:
C7: Suited to different applications
C8: 65-95 Kg | 143-209 Lbs.
C9: 65-95 Kg | 143-209 Lbs.
Colors:
Black, nylon white
Features:
Set of three (3) fins for tri sets
Set of (2) fins for twin fins
Suitable for all skill levels
FCS tab system
Strong glass reinforced nylon composition (20% glass fibre).
Features (C9 specific)
Profile set up larger side fins:
wide base=more drive, deep depth=high hold, medium Sweep=medium turning arc
Profile set up smaller centre fin:
medium base=medium drive, low to medium depth=low to medium hold, low sweep= tight turning arc
Competitive Advantages
Good, strong construction & Design
The Culprit Nylon performance surfboard fins offer long lasting balanced construction due to the combination of strong glass filled dupont Nylon resin and fine tuned design elements that can only be found on these Culprit fins.